JOCO is a real glass "takeaway" cup!
Another story from hot Australia! After two years of hard work, research, big ideas and much more, in 2012 the first glass "takeaway" JOCO cup came to the market!
JOCO creates ecologically innovative, glass and sustainable drinking products - a smarter choice for people and the planet. With leading experience and the best materials, with a sustainable design, 100% plastic-free.
The JOCO philosophy is simple: sustainability, taste and style. Glass lasts longer, doesn't affect the taste and always looks the best. This is a thoughtfully and imaginatively made cup, with care for the environment. Experience luxury wherever you are!

Every year in the world we use more than 500 billion disposable cups made of paper, styrofoam, various plastics... It is alarming that this number is rapidly increasing every year.
The production of such cups consumes natural resources, the CO2 emissions are enormous, also the problem of waste after use... Despite its small size and insignificance, such a small disposable cup contributes a lot to environmental pollution! Are we even aware of it?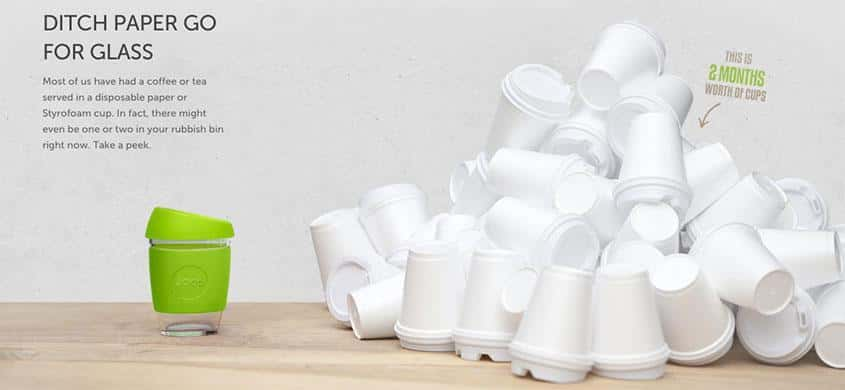 At Joco, they believe that it is time to make amends to nature and even give it something back. Thus, using the Joco cup is a big step towards reducing waste. Even the packaging is environmentally friendly. At the same time, you will be the user of an extremely beautiful, modern cup. Not to mention the taste of coffee or tea. Drinking liquid from a glass is something completely different than from a plastic, paper...
Nature will thank you if you change your habits and become a Joco cup user!
So - become a proud Joco cup user! And taste only good coffee or tea and not your cup!!
And so that you don't think that Joco cups are only for tea and coffee. Natural juice or smoothies will keep the taste and smell in the Joco cup! Cleaning is easy and the cup will remain clean (of course, it will not get smelly or discolored).

Joco cups are made of high-quality, non-porous, borosilicone* (boral) glass. They are light and very resistant to large temperature fluctuations. Thus, it is completely safe to use in the microwave or dishwasher. The cups are also completely "clean" as far as various chemical substances / impurities are concerned (without BPA, lead, cadmium, etc.).
*Borosilicone or Boral glass is very resistant to chemicals and temperature changes! Therefore, it is mainly used for the production of laboratory glassware and also kitchenware.
JOCO glass cups: details
At Joco cups, everything is made with the utmost care! "It's All In The Details"
The rubber coating around the cup ensures that the contents remain at a suitable temperature. At the same time, it provides a "cold" grip so that you don't get burned! With this detail, they also took care of a great look and protected the glass from impacts when/if it falls on the floor.
The rubberized cap ensures that the contents do not spill while traveling around town, in the car, on the train... It is designed so that when you take a sip, you do not bump your nose into the cap.
The sizes of the Joco cup fit coffee machines, so your Joco cup can be filled in any cafe or in any place that offers takeaway coffee or coffee to go.
Can you believe that the shape of the Joco cup is compatible with the bottle holder on the bike! So also for all those who cycle through the city in the morning to your office or to training.
What kind of coffee do you like to drink?