Choose reusable products! Mizu bottles, thermo bottles, cups
The founder of MIZU Life is professional snowboarder Jussi Oksanen, who, out of a desire to preserve clean nature and reduce the use of single-use plastics, designed high-quality and durable drinking products - bottles, thermoses, cups and other useful accessories - cutlery, filters for water. All are made of high quality stainless (kitchen) steel (main parts) and silicone/PP5/nylon (accessories and smaller parts) - 100% BPA free and no toxic dyes. All are suitable for recycling.
Their innovation is the portable water filters 360. A unique product with nano technology that easily attaches to the bottle and enables drinking water from lakes, rivers or other water sources and cleans 99.9% of pathogenic elements in the water (viruses, bacteria, parasites, toxins). In addition to environmentally friendly products, the company donates part of its profits to environmental organizations.
ENJOY THE JOURNEY, LEAVE NOTHING BEHIND
Enjoy life, move forward, look to the future, discover new paths and make sure the past doesn't follow you. "Purge" your things, both the intangibles and quite literally - clear out all the junk. A simple slogan that says so much!

MIZU
Therefore, the driving slogan of the Mizu brand is much more than just a slogan. It drives the company forward and everyone involved. Even us, who in 2019 became part of their family and present their ideas and products on our territory. They remind us in a simple way that the consumption of plastic can be greatly reduced. Each product in the Mizu product line is designed to offer multiple uses for products that we normally have for single use!
At Mizu, they focus on the root cause of the problem. They are committed to reducing the production of single-use products. They offer us quality and exceptionally designed reusable products. The most "green" fashion accessory, home decor! In addition, they are closely connected with many organizations, foundations for a cleaner future.
Mizu participates in, supports and donates to organizations in the field of ecology. Some directly work in the field of nature conservation, especially oceans, seas, rivers... and other organizations try to raise awareness of the importance of a clean environment through training.
Mizu is focused on the root cause of the problem, committed to reducing the initial production of single-use products by providing quality and beautifully designed alternatives.
The foundation of surfer Rob Machado is focused on educating children about the issue of plastic in the oceans. They strive to make young people see that they have the opportunity and power to contribute to the reduction of plastic in the environment. It promotes sustainable decisions, in the domestic environment and small communities. From growing home-grown food in your garden to cleaning the oceans. Even small steps are important and in the end they are the ones that do a lot.

The organization of renowned SUP champion Sonna Honscheid and the Trash Hero project work in a similar way. Reduce waste, take care of recycling and reduce plastic consumption. We can do a lot by ourselves!
The list also includes: Waves for Water, Charity Water, Give Clean Water, SIMA and Wildcoast. And of course: 1% FOR THE PLANET!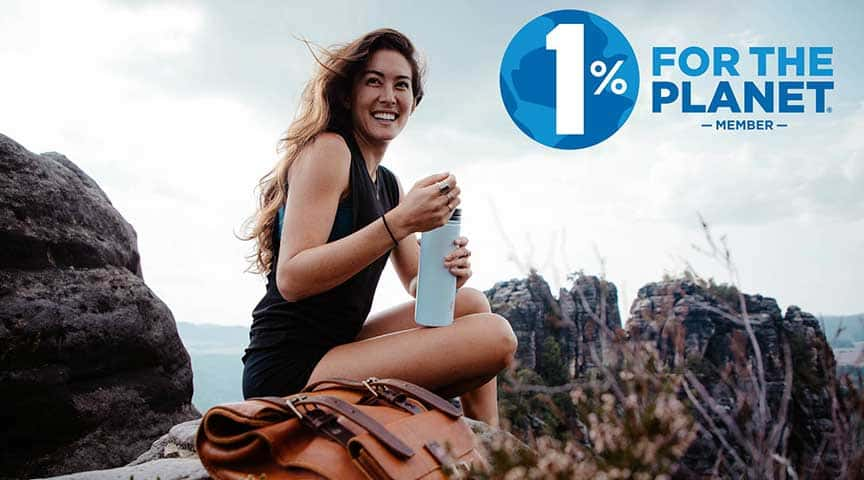 Organization 1% FOR THE PLANET was founded in 2002 by Yvon Chouinard, founder of Patagonia, and Craig Mathews, founder of Blue Ribbon Flies. Today, this organization is a network of more than 1400 companies, with hundreds of individual members and thousands of non-profit partners in more than 60 countries. It is a global movement that inspires companies and individuals to support environmental solutions through annual membership and daily actions. The organization advises on planning strategies, finding donations and the donations themselves. More than 225 million dollars have been donated / earmarked for environmental non-profit organizations.
Vision - all together for our planet.
Mission - we contribute money and "smart" companies, for smart actions.
It's the small steps that count. And each of us can contribute to a cleaner environment. Check how you can contribute every day!
Mizu products for a better tomorrow
Conveniently stored in a small neoprene bag, it can always be with us. There is a place for it in every bag. Thus, we can enjoy a meal with the right cutlery made of high-quality kitchen steel. A luxurious look, of course. Also included are chopsticks for enjoying Asian cuisine. The finishing touch is a straw made of kitchen steel and silicone. When you enjoy a cocktail on the city street in the evening - be a star and tell the waiter that you don't need a plastic straw - you have an ecologically clean and trendy looking straw at hand.

different volumes, shapes and colors. Surely everyone will find their favorite.
The M series offers us "single wall" bottles - light, durable bottles. The S series with thermoses, which are famous for their perfect, minimalist shape and excellent insulating properties - less is more! The best sellers are M8 (800 ml) and M5 (530 ml).
The S series is slim and elegant. Thermo flasks S6 (610 ml) and S4 (415 ml) offer the most beautiful design in addition to exceptional insulating properties. Simple, in great colors, for her and for him!
The V series offers us thermo flasks V8 (750 ml) and V6 (570 ml) in a completely steel design - the lid is also made entirely of kitchen steel and some other models with a wider opening, which means that the smaller bottles can also serve as food containers . The largest V20 has a volume for 6 smaller beers and is popular at summer picnics.
You can change the lids for bottles with a wide neck. You can have a cap with a straw with which the water filter is also compatible. The steel lid works great when we need a thermos with a larger volume or when we use the thermos as a container for food. For smaller thermoses, a "coffee" lid is handy and then we have a cup to go.

There is a big increase in the use of cups at Mizu. Tumblers are an indispensable item for everyone who can't do without coffee on the go (have you ever thought about how many coffee cups you've used from gas stations), who can't start the morning without a smoothie. The wine cup with a volume of 500 ml is the most fantastic wine glass in the camp - the taste of wine as wine deserves, the shape that fits in the hand and with a great design. In the mornings, the Wine cup transforms into a trendy cereal cup.
Camp cups are cups with a handle and a lid, they are thermally insulating and great for coffee, tea, cocoa. The simple design and perfect functionality have convinced many travelers and camping enthusiasts. In this line, we must not forget the Party cup - simple cups made of steel, super affordable prices. Most often seen printed with the logos of recognized brands and festivals. What is a better souvenir from a festival or party than a quality cup that we will use for years and years, while drinking the right drink with the right taste and remembering the good times from parties with friends.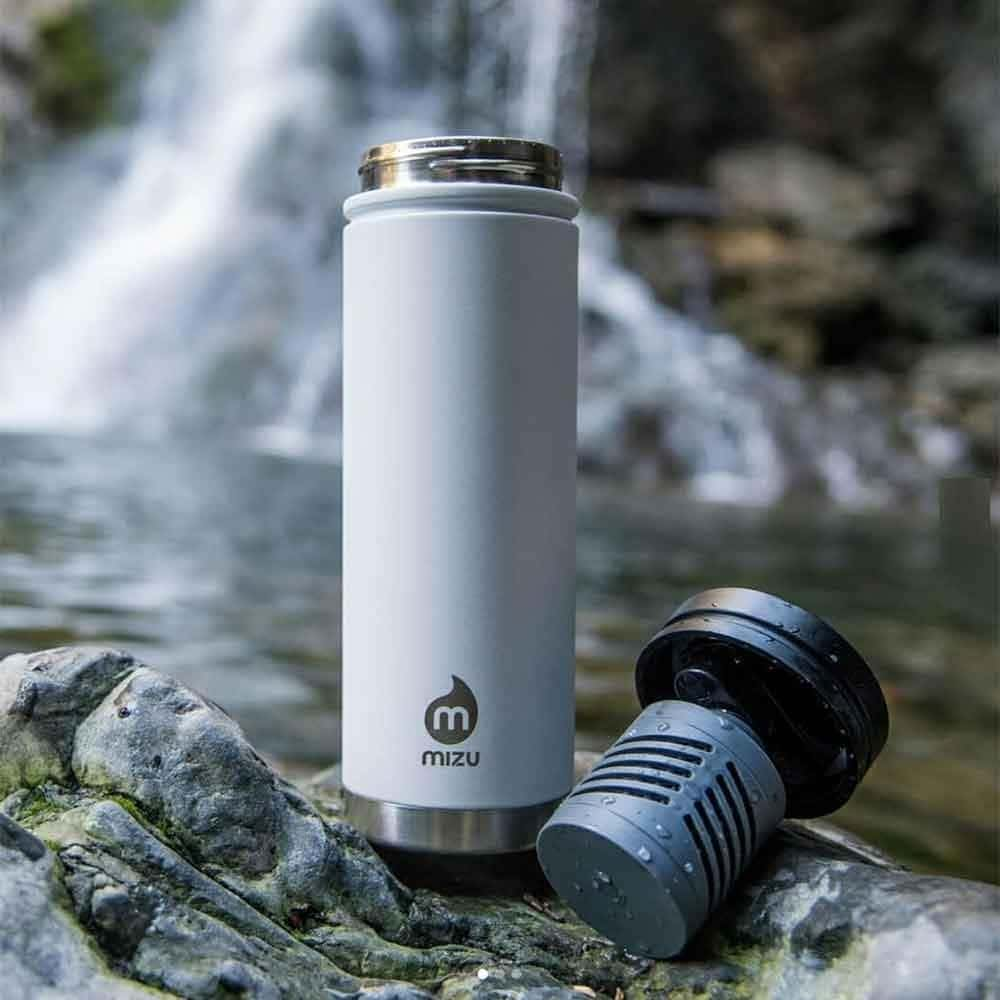 Walter filter Mizu
The Mizu filters are something completely "crazy"! You will never need to buy a water bottle again. Never again will you need to carry a heavy backpack with water supplies. Never again will you need to worry about where the next store is to buy a water bottle.
Now you can drink just about any water! The Mizu Everyday water filter removes 99.999% of water-borne contaminants, including bacteria.
The Mizu Advanture water filter removes 99.999% of water-borne contaminants, including bacteria and viruses. With the Mizu filter, you can enjoy just about every river, stream, lake, every dirty puddle...
From now on, drinking water is always at hand!
---
Choose to reuse
MIZU Life Special edition with ambassador graphics
MIZU Life has invited its ambassadors to participate in this special edition, who inspire with their lifestyle and raise awareness of environmental protection. From each special edition bottle sold, 1% of the sale is donated to selected non-governmental organizations.
In the 2021 season, we find 6 new prints, graphics on different types of MIZU bottles and thermoses. Each graphic reflects the individual's personality and their adventurous spirit.
Let's take a look at the MIZU ambassadors and the background of their stories that inspired the graphics!
SKYE WALKER is a long-time MIZU ambassador and artist who created all the graphics in collaboration with the other ambassadors. Skye is a versatile artist from California.
He creates as a painter, graphic designer, creator of video content and a great lover of nature and spending time outside. Nature is also the one that most often inspires him, and as he says, there is nothing more powerful than seeing a large mountain range or a vast ocean. All this blends into a perfect geometric shape. The mapping of inspiration from nature into a piece of art is an encouragement and a reminder to everyone that planet Earth is unique and should be protected like a jewel.
Skye Walker designed his graphic for the V8 thermos - taking inspiration from his classic prints 'Beyond' and 'Far & Away'. The graphic carries a combination of mountains and ocean.
1% of every bottle sold is donated to the foundation Plastic Free Seas.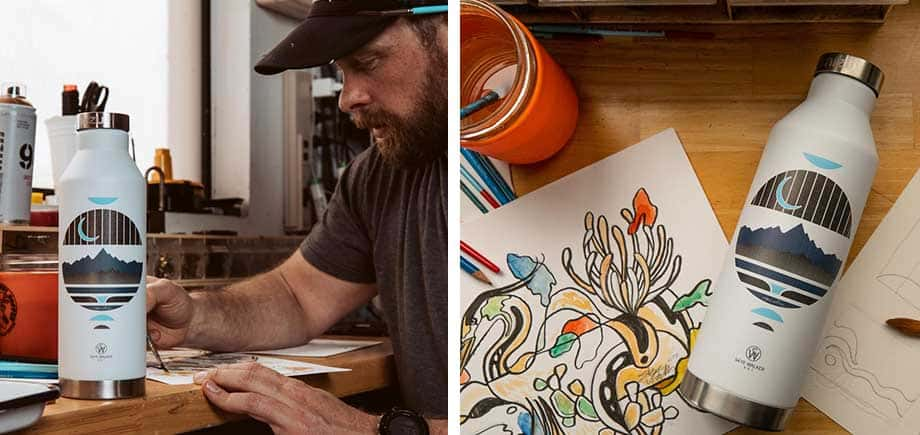 LIZ CLARK
Liz started sailing at the age of 7 in San Diego, California. As she sailed along the coast of Mexico, she was horrified by the massive pollution on one side and the stunning natural beauty on the other. At that time, she committed herself to protecting the environment. At the age of 15, she took up surfing and competed professionally for several years. She later re-dedicated herself to sailing and earned the title of Captain Liz.
The graphic on the V8 thermal jacket is a tribute to the nomadic life on the ocean as she explored the Pacific by sailboat. Her cat kept her company. It hopes to inspire and motivate users to explore, protect the planet and follow their dreams. The graphic carries a cute sailboat.
1% of the sale of each of Liz's thermos goes to the non-profit organization A Ti'a Matairea Island Protectors in French Polynesia, chosen by Liz.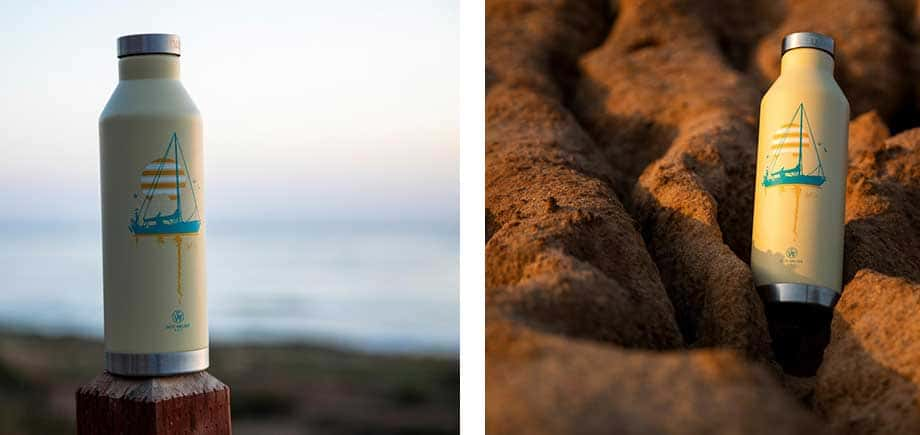 SIERRA PRESCOTT
Sierra Prescott's energy and smile instantly captures us and puts us in a good mood. An energetic young woman who skates and shares her inspiring moments through photography. Her work is fresh and lively, and represents the view of the younger generation. Sierra says she's lucky to live in Southern California—perfect for skating the many streets and sidewalks. Her silhouette captured in the sunset while skating the streets of California reflects a relaxed and adventurous lifestyle.
1% of the sale of each Sierra thermos is donated to non-government organization by her choice - Support and Feed.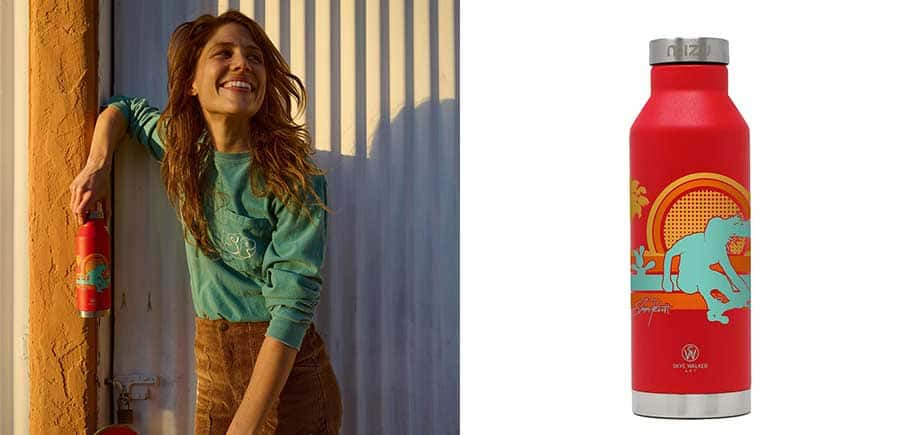 CHELSEA YAMASE
Chelsea comes from beautiful Hawaii, where she feels fantastic and is extremely grateful to be able to live in such an environment. A girl who inspires with her adventurous style and who tries her hand at just about every sport. In the last 3 years, she traveled to 53 countries, where she dived, surfed, hiked and immortalized it all in beautiful photos. It is supported by big companies like Canon and Adobe.
Her graphic on the M8 bottle is a tribute to the forces of nature that shaped her - the mighty cliffs of her home island and her first experience diving with a humpback whale. All this symbolism is captured in the graphics and hopes to make the user aware of the interconnectedness between land and water.
1% of the sale of her bottles goes to the non-governmental organization Pangeaseed Foundation.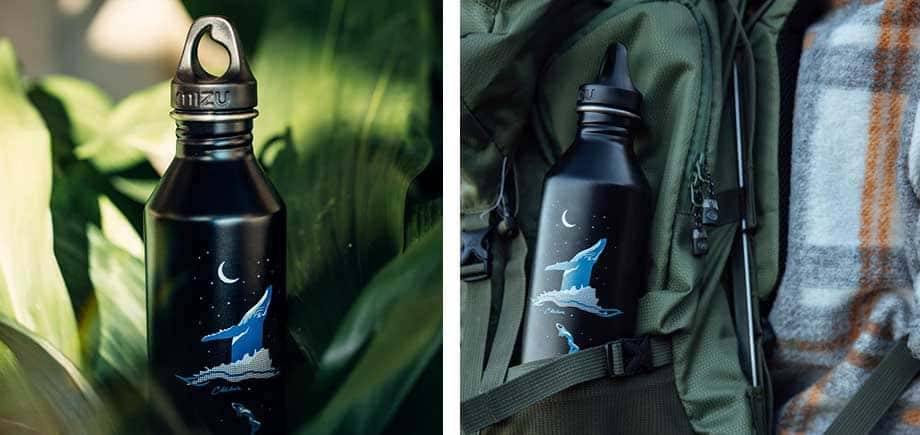 TODD GLASER
Todd is from San Diego. He is a photographer, surfer and a big water lover. In his early years, he managed to get his photos on several covers of Surfer magazine. When he's not catching waves around the world and photographing top surfers, he can be found at home on a bike or on a wave, in the company of his wife, Jenna.
The graphics on the M8 bottle illustrate a unique image of nature and a wave from Blacks Beach in San Diego.
He donated 1% of the sale of his bottle to the non-governmental organization Rob Machado Foundation.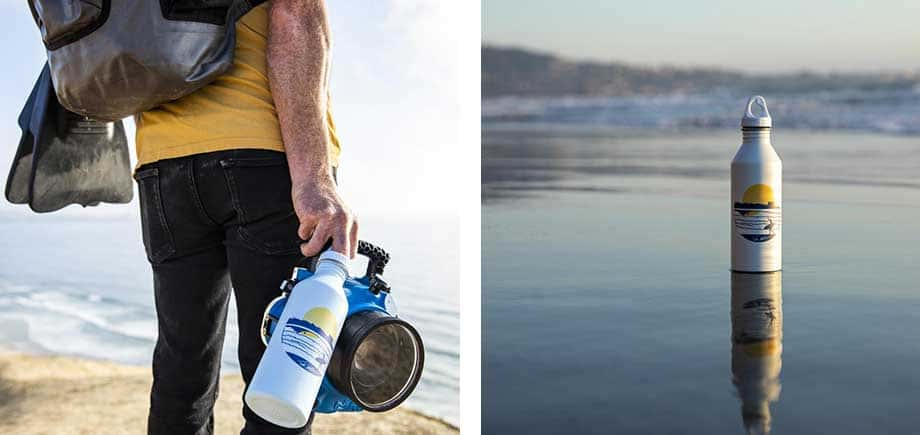 JUSSI OKSANEN
MIZU co-founder and retired professional snowboarder Jussi is a multi-talent when it comes to adventures. After completing his professional career, he devoted himself to photography. His photographs can be found among the world's leading brands, - branding, storytelling... His graphics on the bottle reflect the Sierra Mountains, which is his favorite place, and is inspired by one of his photographs of the Hot Creek River flowing through the valley.
1% of the sale of Jussi's bottle goes to POW Protect Our Winters.