Yoga Design Lab mats and accessories for yoga
Yoga Design Lab brings freshness to the world of yoga accessories - color, prints, lively and soothing patterns on yoga mats, towels and straps. All products are made with respect for the environment from recycled bottles, biodegradable natural rubber, water-based paints. With love from Bali.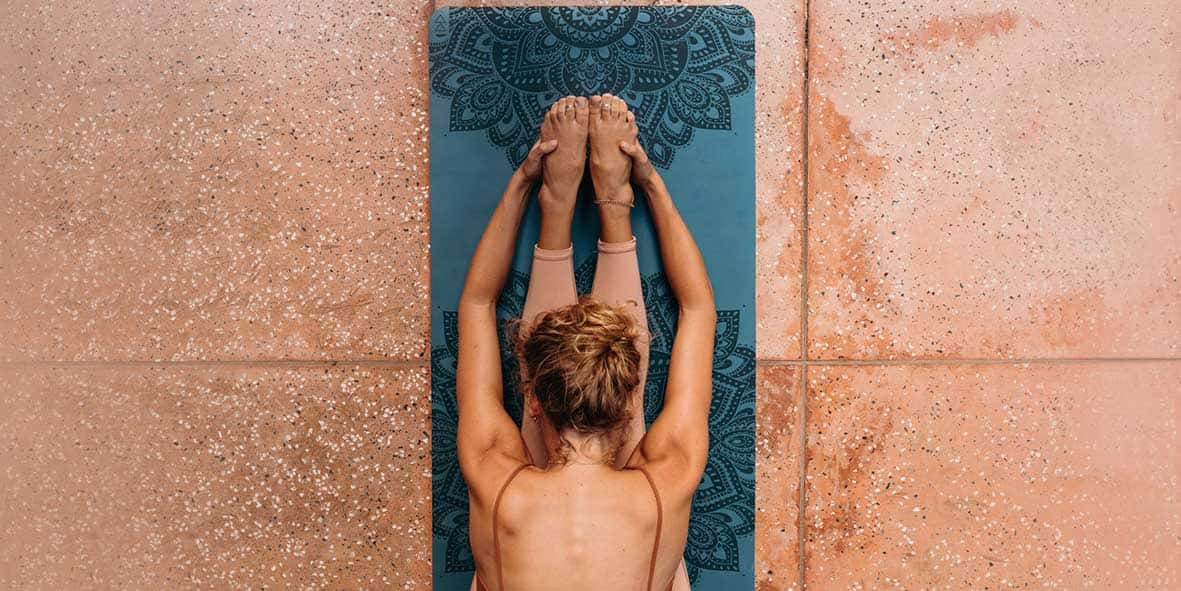 Yoga is useful. Yoga is trendy.
In the world of yoga, in addition to the functionality of products, the ecological note is also important, but also the aesthetics of the products. It is nice that the leading brands in the world of yoga emphasize the protection of the environment and also the protection of the people involved in the production process. Leading brands like prAna, Manduka, Liforme, Yoga Design Lab, ReYoga and we probably missed someone, ensure that their products are biodegradable, recyclable, that their natural rubber does NOT come from the Amazon rainforest, cotton is grown organically, there is more and more hemp that is even cleaner for the environment and polyester is recycled (they often write how many bottles is the product made of).
Their items are labeled with various certificates such as Fair trade, Bluesign certifikate, these leading manufacturers cooperate and support local communities… So there is no doubt about it, they are paying a lot of attention to our future! That the items are functional is self-evident. How couldn't they be - behind all this are years and years of development, rich experience of individuals, research…
What is the trend in yoga? Does it even matter?
To some extent it is. This often accelerates the development of new materials, new practices. Until recently, yoga mats were in pretty boring colors. One of the first to launch yoga mats with prints was prAna.Their E.C.O. Henna yoga mat is still one of the globally best-selling yoga mats. Manduka's yoga mats are also quite colorful last seasons. Liforme with its system of lines on a yoga mat (map through asanas) is recognizable to everyone.
All of these mats provided a great, good grip during yoga practice. And somewhere in between, prAna once again sent to market the most beautiful yoga mats of the time. Printed Microfibra were called or are called because they are still in the collection. These were the ones with the top layer of microfiber.
Made of microfiber material. This material can be printed with any pattern we want.
Other brands soon followed. And at the moment there are quite a few such yoga mats on the market. Just be careful in what way and of what materials they are made of. A lot of such yoga mats are ecologically very controversial and maybe even harmful to health due to prints with suspicious colors. Trust the established ones, they can't afford mistakes and a bad reputation.
Grip of yoga mats made of microfiber material
But the downside - this material does not offer excellent grip. The material is basically even slippery. This is great for anyone who sweats a lot, as wet, moist microfiber offers excellent grip. You can spray with water the surface of the yoga mat and achieve the same effect. When you perform yoga poses to the maximum perfection and your body really works hard, then such yoga mats also hold.
In some yoga practices we slide from position to position. The practice is ongoing. In such practices, this property of microfiber material comes in handy. But such practices can usually be performed by more experienced people.
Yoga Design Lab
In all of this, they went a step further at the Yoga Design Lab (YDL). In addition to the already mentioned ecological note and functionality, their items are so beautiful that we can't take our eyes off them. The founder of YDL, on a yoga holiday in Bali, noticed how much of bad products are on the market (so ecologically controversial, dysfunctional and also not looking nice). He moved to Bali and started working. It took us a while to get YDL.
These are top notch yoga mats that take your breath away. Their colors are noticeable and you fall in love with them in an instant. This is an additional motivator to unfold the yoga mat even more times and practice even more often. But even their yoga mats slip because of the surface made of microfiber material.
The new yoga mat Yoga Design Lab Infinity has brought a great grip and an ecological note! Yoga mat made of a combination of materials (natural rubber and PU fibers) that does not slip. In four beautiful colors, with a wonderful mandala print for orientation and an attractive look. The combination of materials provides grip if wet or dry! A similar version of the yoga mats on the market are also of the first class and the first such yoga mats on the market are the top Liforme joga blazine. Liforme uses such material and print or better said, some kind of laser print, which both yoga mats (YDL and Liforme) have. And again - at YDL, they made this laser print especially beautiful and attractive.
YDL didn't just stay with yoga mats. Their yoga aids also stand out in design. Let's just mention the yoga wheel. Only few brands have this in their offer and yet these are usually uncomfortable and robustly made. YDL yoga wheel is upholstered with natural rubber with a beautiful mandala pattern.
It will open and stretch your chest, shoulders, back, hips… Progress in the poses will be easier and painless, without tightening the muscles.

The trend is making development go even faster.
We make sure that the yoga mat unfolds even more often due to its beautiful appearance. And despite the fact that yoga also teaches us modesty, nowadays we can no longer close our eyes and complain that it doesn't matter. After all, the trend has made yoga so popular among the general population. And what is harmful here? Yoga is healthy. So let's practice it. In a beautiful, creative, friendly and clean way.
Let your world be a "design lab" or your yoga world "Yoga Design Lab"
LIVE. BEAUTIFUL.