Ulla is a small a smart reminder to drink water. An excellent and very simple "gadget" that prevents dehydration. This way you will feel better, you will be more efficient.
Ulla is a small a smart reminder to drink water. An excellent and very simple "gadget" that prevents dehydration. This way you will feel better, you will be more efficient.
Fits all glasses, bottles, cans, jugs. At the same time, Ulla boasts a great design and is also a nice accessory.
Ulla
Drink 3 times more water, be healthier, have more energy and avoid headaches with Ullo - your personal hydration coach
Remind you to hydrate if you forget
Blinks before dehydration occurs
Follows you when you drink
Fits any water bottle
Fully automated
And we mentioned – it is the fruit of our Slovenian development and also made in Slovenia!
How Ulla works, a reminder to drink water
Attach Ulla to the bottle or glass with the supplied silicone tape.
By flashing, it warns you that you need to drink water (you can also detect it with peripheral vision).
After you take a few sips, the sensor detects that you have been drinking and reminds you again in 30 minutes.
With the help of vibration sensors, Ulla knows when you are nearby, when you are not, it turns off. With the help of a light sensor, it detects when it is completely dark and stops. The quick-change battery lasts up to 6 months.
Dehydration? What problems does dehydration cause you? When you're thirsty, it's too late!
For 1% dehydration (% lack of water in relation to your body weight), according to the results of studies, your productivity drops by 12%.
It is a common cause of headaches and migraines.
Get sick several times.
You have difficulty concentrating, your mental and physical abilities drop.
Feel tired and irritable.
You age faster.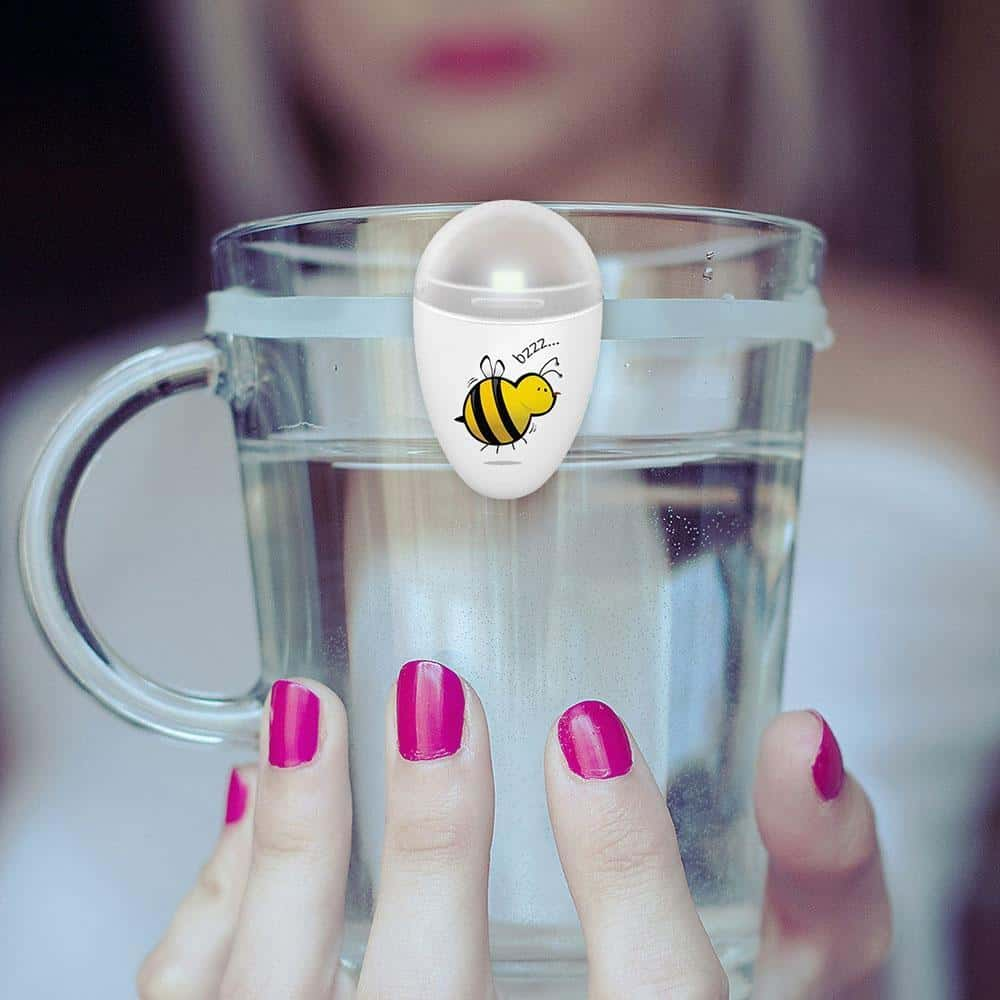 Who does Ulla particularly benefit from?
​To all of you who work in offices, especially those behind a computer.
Physical workers, because physical activity consumes a lot of water.
For athletes, it is highly recommended to drink water during exercise.
To chauffeurs when you drive long distances.
The elderly, because they often forget to drink.
Students, students and pupils who need maximum concentration and mental abilities when learning.
To the housewives who drink too little because of the abundance of work.
For those who are losing weight, because drinking water is one of the important factors in the success of your weight loss treatment.
For people with frequent headaches and inflammation of the urinary tract.
Ulla is an ideal gift, as it fits on any of your bottles or glasses.. The Ulle packaging is aesthetically designed and suitable for shipping.
Ratings & Reviews
Share your thoughts with other customers
FAQ
How can we help you? General informations about orders, payments, returns, refund and delivery you can find at Terms & Conditions here.
Please contact us at [email protected]
Discount code and gift cards
Enter discount code and gift cards into code box after you choose your items into shopping cart. Check if the code was submited and discount calculated. You can use only one code at a time. More
Order
You can make order with registration at website or make a call. You can follow your order at registering into My account. More
Payment
Payment can be done by credit card, via paypal, at delivery or with bank transaction. More
Shipment and delivery
Order is dispatched the same working day, after we receive order confirmation. Items which are not available at the moment, are usually shipped in few working days. Shipping costs depend on the amount of orders and country of delivery. Shipment is free of charge for orders over 100 €. More
Returns and refunds
Contract can be cancelled within 14 days of receipt purchase. You can return product no later than 30 days after the cancellation of the contract. More
More questions? You need help with product? Contact us at [email protected] or call us at +386 (0)40 728 330 and will be happy to help you!
More Information

| | |
| --- | --- |
| SKU | ZULLA |
| Brand | Ulla |
| Weight (kg) | 0.030000 |
Write your review
About the Ulla Hydration Reminder
Who Viewed This Also Viewed