Gumbies eco flip flops
Gumbies footwear comes to us from sunny Australia. Who wouldn't know better what the best light footwear is than someone from a country where there is no winter.

When the father of Gumbies, Michel Maurer, discovered the Walkabout ritual among the Aboriginal people at the age of 18, he had no idea that it would have such an impact on his life path. His restless spirit, his desire for freedom, for adventures, for the peaks of life, for something more that is not in the regularity of ordinary people, caused him to discover more and more. His escapes were escapes to "real" life, to real experience. Soon the desire for adventures was joined by the desire for achievements in business.
With a little money, a backpack on his shoulders and a head full of dreams, he set out to find his happiness, his way. During the trip, he did odd jobs, and occasionally devoted himself to manual work. Then he read an article at an outdoor fair in Utah about the success of John Lobb and his shoemaking, and that was it. The first germs of Gumbies slippers were created.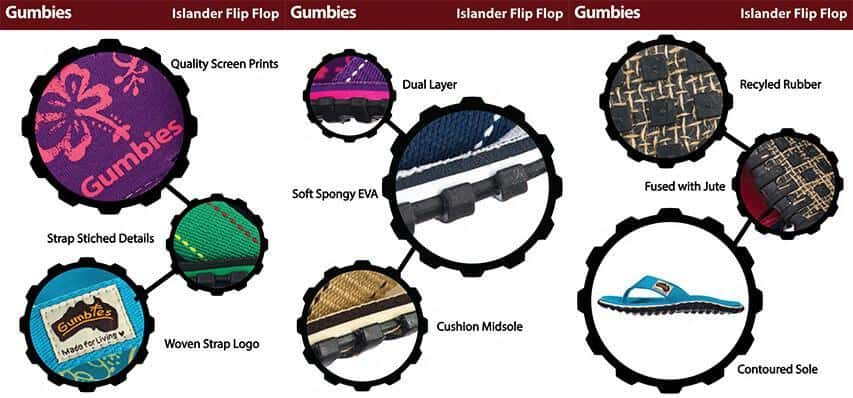 The new brand should reflect a passion for simplicity, usability and most importantly – freedom! Mandatory use of natural materials, recycled materials and a strong reliance on ethical foundations were key to the beginning of the creation of perfect flip-flops.
What good did we do?
Tons of CO₂ removed from the atmosphere annually*
Tons Ocean plastic recovered
The key "ingredients" of the Gumbies flip flops "assembled" quite logically. The old, worn out car tires were too raw to use the sole. But when he combined this discarded rubber together with jute, the strength and durability of the material increased. Also, such a sole perfectly combined with the EVO midsole, which means comfort and a "soft" step. There is a layer of canvas on top because canvas is skin-friendly, offers a gentle and natural touch and breathes well. Beautiful color combinations complete the finishing touches. And these color combinations are not random, each one has its own story. Thus, Gumbies were born flip flops!
And also Michel's belief (everyone should be aware of this and follow it):
"Life is too short to mess it up. Don't make it complicated! Ride a wave, climb a mountain, wear Gumbies!"

Gumbies flip flops were therefore, and are still being created, out of a passion for nature, for an active life outside. They are simple, minimalist, with complete protection of your foot. Travels and the search for experiences in the field of sports, research expeditions, wandering around our planet have contributed to developing what they believe in at Gumbies - footwear as simple, but as functional as there has never been.
Made according to the shape of the foot, with an extremely comfortable loop between the toes, a flip-flop midsole that cushions shocks when walking and running, a sole with an almost sticky grip...

Gumbies eco flip flops
Gumbies flip flops are made from natural and recycled materials. Environmentally friendly materials.
---
What do they recycle?
Recycled rubber is used for the sole. They recycle car tires and tires. Corker flip flops are made of cork, without harm to the environment. They use cork from Portugal (one of the world's largest producers). Cork is a sustainable material, the bark is removed from the tree every 10 years, the tree is then regenerated. And they repeat the process. They do all this with great care and protection of the trees. They use polyester from recycled bottles for the straps and insole of Duckbill flip flops.
They recycle cotton for classic flip flops. They use or they recycle old cotton T-shirts and other clothes, leftover material from textile industry productions... Recycled cotton is used for Corker flip flops. Flip-flops are packed in 100% recycled plastic packaging (although they are active in finding new packaging methods without plastic), with biodegradable components.

Gumbies is a timeless style, always "in", full functionality, fresh look. Age is not an issue (they are for everyone), just like best friends are not! It's always the right one!
Let your journey begin now! "Let your journey begin!"