The story of Icebreaker began in 1994. A young, 24-year-old Jeremy Moon was introduced by his girlfriend to Brian Brackenridge, a sheep farmer from New Zealand, and almost by chance he got a 100% Merino shirt in front of him.
Something like that was not in use in those years. Woolen items were rugged, itchy, "stingy", but this shirt was not like that. It was soft, gentle, pleasant. Jeremy quickly created a business plan and the first Merino brand of outdoor products was born.
New Zealand merino wool clothing for all those who swear by natural. Sustainability is not only a mark of their products, but is embedded in the company's values ​​and development. They believe there is a better way and nature provides the answers. The clothes can be worn on their own or as part of "layering", they are breathable and light. Clothing for hiking, skiing, running and fitness, travel, yoga, fishing.
The beginnings of Icebreaker
The beginnings were difficult and there was no success. The first profit of 800.00 NZD was only after three years. But from here it went up a little faster. Today, Icebreaker's range of items ranges from underwear, socks, to pants, jackets, dresses... in more than 4,700 stores in 50 countries around the world.
Merino wool
Icebreaker's goal is not to make the most technical material in the world - nature has already done that! Merino wool was not created in a laboratory. It was created in the mountains of New Zealand. And the Icebreaker factory is open 24 hours a day, every day of the year - sheep, of course! Nature is the best and most amazing creator. Everything it creates is simple, effective and beautiful.
NATURAL. ETHICAL. SUSTAINABLE.
The ideal layer of clothing for your skin - because it is made in the mountains and not in a petrochemical laboratory. Merino wool is naturally renewable, recycled and biodegradable.
---
Merino wool
Merino underwear is made of stretchy, skin-friendly material. The panties are super soft, comfortable, quick-drying. Merino wool is woven around the polyamide fibers - so the material is super durable and comfortable, and we only feel ultra soft merino wool on the skin.
Icebreaker merino wool products do not absorb odors and remain soft even over the years and after many washes.
Merino wool clothing stays dry and provides a cool and fresh feel at higher temperatures. At lower temperatures, they warm up pleasantly, even if it is wet. Guaranteed optimal climate for your body in all climatic conditions.
How to maintain sports underwear made from Merino wool
Wash in the washing machine at low temperatures , along with similar colors. Don't use fabric softener. Don't use bleach. Do not tumble dry. Do not dry directly in the sun. Do not iron pushes (ironing is not necessary or recommended). Do not use dry cleaning.
Icebreaker is committed to a sustainable business model that does not put profit before the environment.
IT'S ABOUT OUR RELATIONSHIP WITH NATURE, AND TO EACH OTHER - That's not a slogan: it's the way we think.
"Their" Merino sheep live in a free and spacious environment. In times when there is less grazing, they are provided with additional food. The farmers who raise them are obliged to respect the rules and thereby ensure:
food and water
suitable accommodation or refuge
preventive (and curative) measures against diseases, injuries and parasites
the ability to display normal behavior patterns
the rules also apply to shepherd dogs
All contracted manufacturers are obliged to meet Icebreaker's standards of clean production technologies, fair treatment of workers and clothing quality.
Icebreaker functioning 
the wool cleaning and combing factory recycles and cleans water through a water treatment system
the wool spinning plant recycles heat through an air conditioning system and has a water purification system
the plant for the production of textiles and clothing uses environmentally friendly colors and, if possible, dyes large quantities of goods to simultaneously reduce energy consumption. Half of its water goes through a water treatment plant that neutralizes all chemicals and ensures that only clean water goes back into the environment. The other half is used in a heat exchange system that provides warm water for dyeing before it is purified.
All Icebreaker manufacturing contractors must:
ensure impeccable business ethics
they have an updated and impeccably maintained production facility
have access to the latest technologies
are part of, or working towards, a global quality assurance program such as ISO 9001
are part of, or working towards, a global environmental assurance program such as ISO 14001 and/or in accordance with the Öko-Tex environmental standard for textiles
they consciously try to reduce their impact on the environment as much as possible (e.g. by reducing energy consumption and chemical use)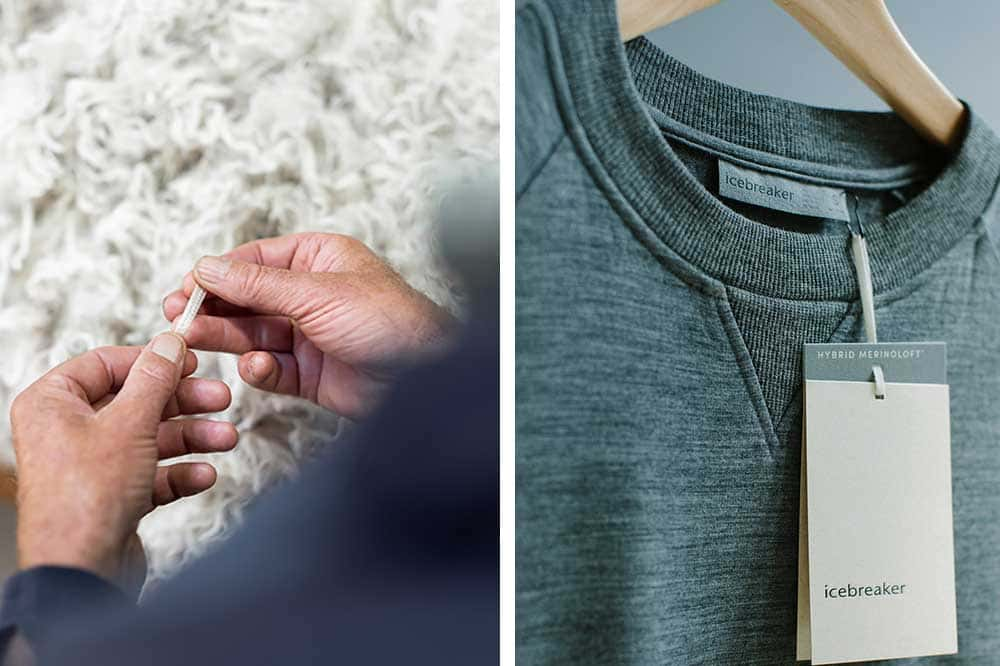 And also relations with workers - everyone involved in the process of manufacturing merino products must:
respect employees and act carefully for the good of the working environment
provide natural light, clean air and a healthy working environment
provide workers with up to three meals a day and, if necessary, provide accommodation
workers must be at least 17 years old. They are paid more than the average salary and are given opportunities for education and advancement.
Packaging of Icebreaker products
At Icebreaker, the packaging is also designed according to their principles.
all packaging cardboard is recycled and/or certified by the Forestry Stewardship Council, a non-profit and independent organization that promotes responsible forest management.
all inks are naturally based
the sock packaging printer is certified by the Forestry Stewardship Council
they removed all plastic from the packaging of the socks and reduced the amount of cardboard and glue to a minimum
they use bio-degradable bags on a natural basis
are constantly developing new ways to use less environmentally harmful and unfriendly substances and materials