Women's Merino wool socks Icebreaker Hike + Light offer excellent thermal regulation to the feet, they remove sweat, they do not absorb odors. The socks are anatomically shaped.
Women's Merino wool socks Icebreaker Hike + Light offer excellent thermal regulation to the feet, they remove sweat, they do not absorb odors. The socks are anatomically shaped.
They provide us with light cushioning, are extremely durable and suitable for year-round use (for cold winter use Hike + Heavy socks). Great for travel, hiking or for everyday wear.
Make sure your feet are happy and your adventures will always be wonderful!
Women's Merino wool socks Icebreaker Hike + Light
merino wool socks for travelers, hikers, adventurers…
for year-round wear (for cold winter wear Hike + Heavy socks)
lightly padded merino wool socks offer exceptional comfort
anatomically shaped
Merino wool breathes perfectly, absorbs and releases steam, sweat
Merino wool gives a natural anti-bacterial protection and prevents odor
Merino wool is the perfect natural thermo regulator - warms at low temperatures and cools at high temperatures
different knitting patterns make sure that each part of the foot is supported or relaxed (eg a "ring" around the entire foot makes sure that it supports the arch of the lower part of the foot, especially the reinforced heel part….)
seamless socks
socks remain soft and comfortable even after many washes
material: 61% Merino wool, 37% polyamide, 2% elastane LYCRA®
weight: 100 g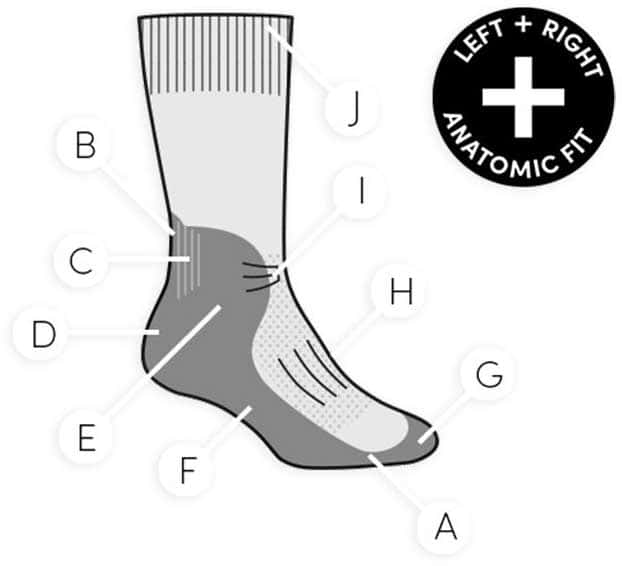 Merino socks - special zones for your comfort and functionality of your new socks
A - Anatomically shaped toe area designed specifically for the left and right foot
B - Special "upholstery" for a greater fit of the feet and for greater comfort
C - The "Achilles support" keeps your sock in place
D - Reinforced heel, extra durability and compactness of the sock
E - Ankle reinforcements improve the fit of the sock
F - Additional support for foot stability
G - Seamless "cap" on the fingertips - prevents blisters and socks
H – Area with additional 'ventilation' zone
I - Special zone to prevent wrinkling of the sock
J - Comfortable, wide cuff so that the socks stay in place and do not lie down, while being soft and gentle to our feet
NATURAL. ETHICAL. SUSTAINABLE.
The ideal layer of clothing for your skin - because it is made in the mountains and not in a petrochemical laboratory. Merino wool is naturally renewable, recycled and biodegradable.
---
Merino wool
Merino underwear is made of stretchy, skin-friendly material. The panties are super soft, comfortable, quick-drying. Merino wool is woven around the polyamide fibers - so the material is super durable and comfortable, and we only feel ultra soft merino wool on the skin.
Icebreaker merino wool products do not absorb odors and remain soft even over the years and after many washes.
Merino wool clothing stays dry and provides a cool and fresh feel at higher temperatures. At lower temperatures, they warm up pleasantly, even if it is wet. Guaranteed optimal climate for your body in all climatic conditions.
How to maintain sports underwear made from Merino wool
Wash in the washing machine at low temperatures , along with similar colors. Don't use fabric softener. Don't use bleach. Do not tumble dry. Do not dry directly in the sun. Do not iron pushes (ironing is not necessary or recommended). Do not use dry cleaning.
Ratings & Reviews
Be the first to review this product
FAQ
How can we help you? General informations about orders, payments, returns, refund and delivery you can find at Terms & Conditions here.
Please contact us at [email protected]
Discount code and gift cards
Enter discount code and gift cards into code box after you choose your items into shopping cart. Check if the code was submited and discount calculated. You can use only one code at a time. More
Order
You can make order with registration at website or make a call. You can follow your order at registering into My account. More
Payment
Payment can be done by credit card, via paypal, at delivery or with bank transaction. More
Shipment and delivery
Order is dispatched the same working day, after we receive order confirmation. Items which are not available at the moment, are usually shipped in few working days. Shipping costs depend on the amount of orders and country of delivery. Shipment is free of charge for orders over 100 €. More
Returns and refunds
Contract can be cancelled within 14 days of receipt purchase. You can return product no later than 30 days after the cancellation of the contract. More
More questions? You need help with product? Contact us at [email protected] or call us at +386 (0)40 728 330 and will be happy to help you!
More Information

| | |
| --- | --- |
| SKU | J9008 |
| Brand | Icebreaker |
| Weight (kg) | 0.130000 |
| Gender | Women |
Ratings & Reviews
Be the first to review this product
More products from brand Icebreaker
Write your review
About the Women's Merino wool socks Icebreaker Hike + Light
Who Viewed This Also Viewed