Magic Rainbow Superfood prepared a mixture of organic vegetables and herbs, which is a real multivitamin bomb. A rich source of vitamins, dietary fiber, minerals, proteins and phytonutrients in one mixture.
Magic Rainbow Superfood prepared a mixture of organic vegetables and herbs, which is a real multivitamin bomb.
A rich source of vitamins, dietary fiber, minerals, proteins and phytonutrients in one mixture - Multivitamin powder is a 100% natural, organic mixture.
A mixture of organic vegetables and herbs – Multivitamin Powder from Magic Rainbow Superfood – as a dietary supplemet, a superfood
rich in dietary fiber and protein
rich in vitamins: contains vitamin A, B1 (thiamine), B2 (riboflavin), B3 (niacin), B5 (pantothenic acid), B6 ​​(pyridoxine), B7 (biotin), B9 (folic acid), vitamin B12 (cobalamin), vitamin C, D and E
contains potassium, calcium, magnesium, iron, zinc
Magic rainbow Superfood is a natural multivitamin powder - a mixture of organic, natural herbs and vegetables
for better well-being, strengthening of the immune system
to help you overcome everyday obstacles and stay healthy and fit
recommended daily intake: 1 teaspoon mixed with food or water (approx. 3.5 g), can also be mixed with juices, smoothies...
refrigerate after opening
suitable for vegans
does not contain gluten
without GMOs
from organic production
100 g
What does natural multivitamin powder contain?
alma powder*
broccoli powder
asparagus powder
carrot powder
*Indian gooseberry, amla
Powder is high in vitamin C and vitamin A. It contains high value of folic acid and minerals. It is an important anti-aging food, the secret to slow aging and beautiful skin. In Ayurveda, it is considered the fruit of youth and beauty. In the East, amla is celebrated as God's gift to mankind. According to Ayurveda, amla balances all three vital energies (vata, pitta and kapha).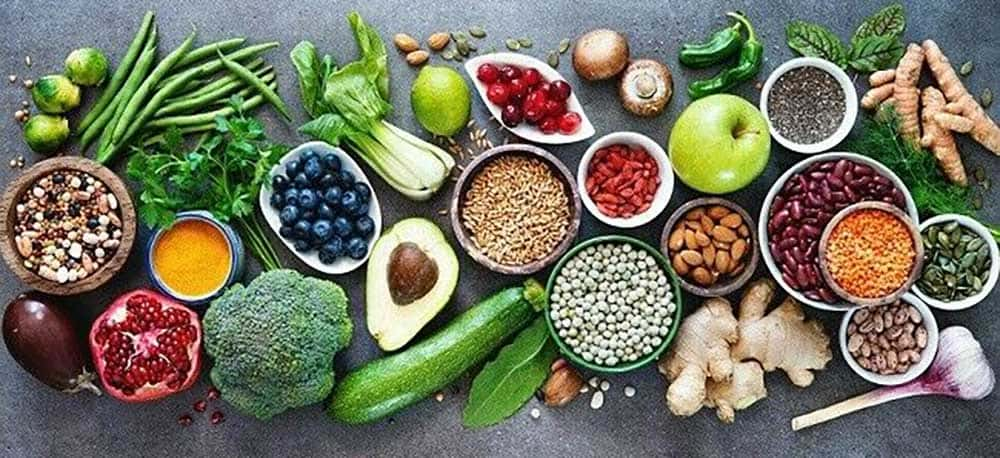 Natural multivitamin - organic blend of herbs and vegetables in Magic Rainbow Superfood
Nutritional value 100g.
| Nutritional value | value per 100 g | % PDV |
| --- | --- | --- |
| energy value | 1568 kj / 372 kcal | 10% |
| fat | 6.9 g | 5% |
| carbohydrates | 23.5 g | 5% |
| of which sugars | (4.1g) | 3% |
| protein | 25 g | 53% |
| dietary fiber | 13.9 g |   |
| salt | 0 g | 0 % |
| VITAMINS AND MINERALS |   |   |
| vitamin A | 1294 µg | 144% |
| vitamin B1 | 1.2 mg | 109% |
| vitamin B2 | 1.25 mg | 92% |
| vitamin B3 | 21 mg | 131% |
| vitamin B5 | 5.1 mg | 86% |
| vitamin B6 | 1.1 mg | 85% |
| vitamin B7 | 44 µg | 85% |
| vitamin B9 | 187 µg | 94% |
| vitamin B12 | 2.2 µg | 85% |
| vitamin C | 102 mg | 170% |
| vitamin D | 200 IU | 50 % |
| vitamin E | 20 IU | 68% |
| potassium | 533 mg | 26% |
| calcium | 500 mg | 50% |
| magnesium | 120 mg | 32% |
| iron | 8 mg | 57% |
| zinc | 9 mg | 90% |
Do not exceed the recommended daily dose! It is not a substitute for a balanced diet! The product is produced and packaged in a plant where soybeans are processed.
---
Magic Rainbow Superfood
Plantation in India, where "our" superfood is grown, has a long tradition. They do not spray their crops with any pesticides/insecticides! All production is completely organic. The products are completely free of chemicals. They are 100% organically certified.
Vegetable, herb and fruit products are processed using a unique dehydration technique that ensures efficient drying of the products without losing nutritional value, aroma, taste and color.
It is free of allergens such as gluten, peanuts, soy, milk, nuts, celery, mustard, lupine, mollusks, etc. It is suitable for vegans and it doesn't contain any preservatives or additives.
This product is not intended to diagnose, prevent, or treat any disease. We recommend that you seek professional medical advice and always take a sensitivity test before using any of the Magic Rainbow Superfood products. No products listed on this page are and cannot be legally prescribed.
The user must be familiar with the use of herbs and powders and must seek professional advice if unsure. The buyer is solely responsible for the use of this item. If you have any hypersensitivity to anything, always consult a qualified health advisor. This product does not cure, prevent, or diagnose any health problems.
Ratings & Reviews
Be the first to review this product
FAQ
How can we help you? General informations about orders, payments, returns, refund and delivery you can find at Terms & Conditions here.
Please contact us at [email protected]
Discount code and gift cards
Enter discount code and gift cards into code box after you choose your items into shopping cart. Check if the code was submited and discount calculated. You can use only one code at a time. More
Order
You can make order with registration at website or make a call. You can follow your order at registering into My account. More
Payment
Payment can be done by credit card, via paypal, at delivery or with bank transaction. More
Shipment and delivery
Order is dispatched the same working day, after we receive order confirmation. Items which are not available at the moment, are usually shipped in few working days. Shipping costs depend on the amount of orders and country of delivery. Shipment is free of charge for orders over 100 €. More
Returns and refunds
Contract can be cancelled within 14 days of receipt purchase. You can return product no later than 30 days after the cancellation of the contract. More
More questions? You need help with product? Contact us at [email protected] or call us at +386 (0)40 728 330 and will be happy to help you!
More Information

| | |
| --- | --- |
| SKU | D0033----100g |
| EAN | 2100000010424 |
| Brand | Magic Rainbow Superfood |
| Weight (kg) | 0.100000 |
Ratings & Reviews
Be the first to review this product
More products from brand Magic Rainbow Superfood
Write your review
About the Multivitamin Powder a blend of organic vegetables and herbs
Who Viewed This Also Viewed