Natural Ashwagandha is the root ground into powder. It is rich in antioxidants, iron, tannins, nitrates, potassium, glucose and fatty acids. Ashwagandha is a nutritional "jackpot" and one of the most important herbs in Ayurveda.
Natural Ashwagandha is the root ground into powder. It is rich in antioxidants, iron, tannins, nitrates, potassium, glucose and fatty acids. Ashwagandha is a nutritional "jackpot" and one of the most important herbs in Ayurveda.
Certain studies have shown that Ashwagandha can have a beneficial effect on the body's athletic fitness and can be a useful supplement for athletes.
Organic ashwagandha root powder Magic Rainbow Superfood - as a dietary supplement, superfood
contains some essential steroid alkaloids such as somniferine, sominine, anpherine and withanolides
it is classified as an adaptogen, substances that help the body cope with stress
recommended daily intake: 1 teaspoon mixed with food or water (approx. 3.5 g),
it is excellent for adding to smoothies, yogurts, cereals, tea and other refreshing drinks
the powder can be sprinkled on salad (green or fruit), added to soups...
refrigerate after opening
suitable for vegans
does not contain gluten
without GMOs
from organic production
100 g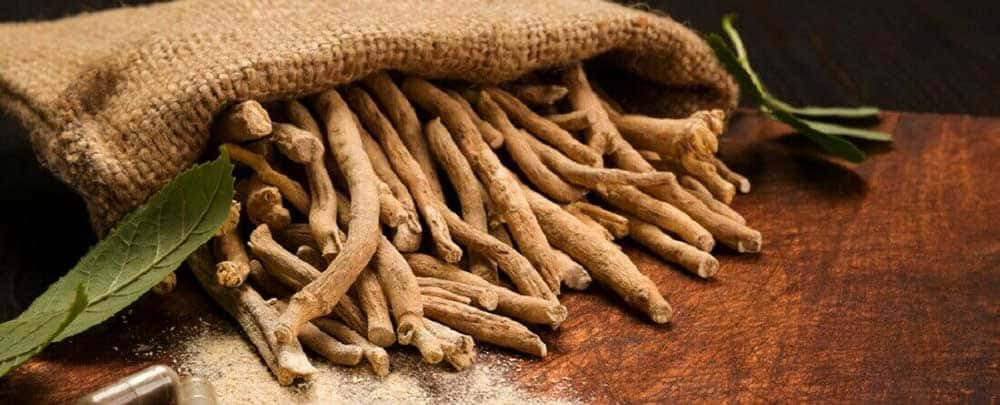 What is Ashwagandha?
Ashwagandha (Withania somnifera) is a small shrub with yellow flowers. It is native to India and Southwest Asia. This plant is a member of the Solanaceae family and has over 4,000 years of traditional use in its native India, Pakistan and Sri Lanka.
Health benefits of Ashwagandha
relieves stress and anxiety
increases energy levels and improves concentration
improves sleep
also useful to help treat anxiety
helps with depression
helps improve cognitive impairment in people with bipolar disorder
helps with male fertility problems (increases testosterone)
helps with heart diseases
helps athletes to improve physical fitness and also increase muscle mass
may lower blood sugar
stimulates the cells to accept glucose from the blood meal
Organic Ashwagandha Powder Magic Rainbow Superfood
Nutritional value 100g.
| Nutritional value | value per 100 g |
| --- | --- |
| energy value | 1024 kj / 245 kcal |
| fats | 0.3 g |
| carbohydrates | 50 g |
| of which sugars | (11 g) |
| proteins | 4 g |
| dietary fiber | 32 g |
| salt | 0 g |
Do not exceed the recommended daily dose! It is not a substitute for a balanced diet! The product is produced and packaged in a plant where soybeans are processed.
---
Magic Rainbow Superfood
Plantation in India, where "our" superfood is grown, has a long tradition. They do not spray their crops with any pesticides/insecticides! All production is completely organic. The products are completely free of chemicals. They are 100% organically certified.
Vegetable, herb and fruit products are processed using a unique dehydration technique that ensures efficient drying of the products without losing nutritional value, aroma, taste and color.
It is free of allergens such as gluten, peanuts, soy, milk, nuts, celery, mustard, lupine, mollusks, etc. It is suitable for vegans and it doesn't contain any preservatives or additives.
This product is not intended to diagnose, prevent, or treat any disease. We recommend that you seek professional medical advice and always take a sensitivity test before using any of the Magic Rainbow Superfood products. No products listed on this page are and cannot be legally prescribed.
The user must be familiar with the use of herbs and powders and must seek professional advice if unsure. The buyer is solely responsible for the use of this item. If you have any hypersensitivity to anything, always consult a qualified health advisor. This product does not cure, prevent, or diagnose any health problems.
Ratings & Reviews
Be the first to review this product
FAQ
How can we help you? General informations about orders, payments, returns, refund and delivery you can find at Terms & Conditions here.
Please contact us at [email protected]
Discount code and gift cards
Enter discount code and gift cards into code box after you choose your items into shopping cart. Check if the code was submited and discount calculated. You can use only one code at a time. More
Order
You can make order with registration at website or make a call. You can follow your order at registering into My account. More
Payment
Payment can be done by credit card, via paypal, at delivery or with bank transaction. More
Shipment and delivery
Order is dispatched the same working day, after we receive order confirmation. Items which are not available at the moment, are usually shipped in few working days. Shipping costs depend on the amount of orders and country of delivery. Shipment is free of charge for orders over 100 €. More
Returns and refunds
Contract can be cancelled within 14 days of receipt purchase. You can return product no later than 30 days after the cancellation of the contract. More
More questions? You need help with product? Contact us at [email protected] or call us at +386 (0)40 728 330 and will be happy to help you!
More Information

| | |
| --- | --- |
| SKU | D0006----100g |
| EAN | 2100000010158 |
| Brand | Magic Rainbow Superfood |
| Weight (kg) | 0.100000 |
Ratings & Reviews
Be the first to review this product
More products from brand Magic Rainbow Superfood

Write your review
About the Organic Ashwagandha root powder
Who Viewed This Also Viewed