Yoga accessories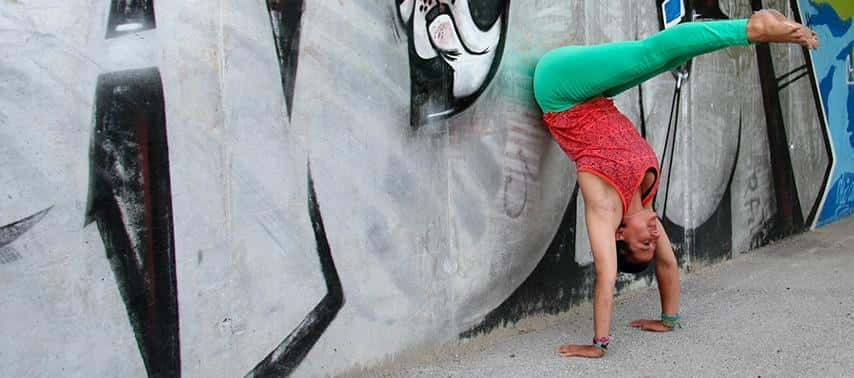 Pripomočki za jogo in dodatki Želiš varno napredovati v joga položajih ali si olajšati položaj, kjer telo potrebuje več podpore? Kvadri, joga trakovi, bolsterji, blazine, valji, odeje, blazinice za oči,… pripomočki, ki tvojo prakso joge (in drugih vadb) in meditacije popeljejo na višjo raven. Za ohranjanje čistoče tvoje blazine poskrbi posebno ekološko čistilo ali joga brisača. Z ... Continue reading >>
Pripomočki za jogo in dodatki
Želiš varno napredovati v joga položajih ali si olajšati položaj, kjer telo potrebuje več podpore? Kvadri, joga trakovi, bolsterji, blazine, valji, odeje, blazinice za oči,… pripomočki, ki tvojo prakso joge (in drugih vadb) in meditacije popeljejo na višjo raven. Za ohranjanje čistoče tvoje blazine poskrbi posebno ekološko čistilo ali joga brisača. Za lažji transport in zaščito joga blazine in pripomočkov, pa poskrbi super joga torba.
Kako uporabljamo joga pripomočke?
Praksa joge v današnjem času postaja nepogrešljiva oblika sproščanja, raztezanja in krepitve telesa, umirjanja uma in duha.
Poleg tradicionalnih, prvotnih stilov joge (hatha, iyengar, ashtanga) so se zaradi raznolikosti potreb posameznikov, razvili in oblikovali številni novi stili joge. Ne glede na starost, telesne zmožnosti in morebitne omejitve (zdravstvene, fizične,…) vsakdo lahko izbere sebi najustreznejši in najljubši stil joge. Mnogo stilov/tipov joge pri praksi uporablja pripomočke, ki nudijo varnejše potovanje v asane, podporo pri asanah, v katerih se zadržujemo dlje, ustvarjajo več prostora in stabilnosti ter prinašajo zabavnejši element sami praksi.
Pri tradicionalnih stilih joge, kot so npr. hatha, iyengar, vinyasa, ashtanga se najpogosteje uporabljajo:
trakovi za jogo, ki služijo kot podaljšek okončin pri položajih, kot so Gomukhasana, Natarajasana, Paschimottanasana,… da varno potujete v položaje, jih pravilno zadržite, hkrati pa ohranite udobje in lahkotnost. Trakovi so trpežni iz bombažne tkanine z zaponko na eni strani in se razlikujejo po debelini in dolžini. Pretesno prijemanje lahko poveča napetost v ramenskih in vratnih predelih telesa. Ne glede na asano, poskrbite, da boste ohranili mehak oprijem traku.
kvadri, ki se uporabljajo za poglabljanje raztegov, za stabilnost in pravilno poravnavo v asanah, približajo tla okončinam v asanah Utthita Trikonasana, Uttanasana,…, služijo kot podpora v sedečih položajih Lotus, Virasana, Eko pada Rajakapotasana,.. za stegna in boke, ki so manj fleksibilni, poglabljajo odpiranje prsnega koša v asanah Supta Virasana, Matsyasana, Setubandhasana.
Obstajajo kvadri iz pene, plute, lesa, večinoma so vsi univerzalnih dimenzij(10x15x23 cm). Postavite jih lahko na tri različne višine glede na asano, ki jo izvajate – na najdaljšo višino, na krajšo in plosko.
joga odeja je nepogrešljiva pri asani savasani – položaj trupla, ko leže počivamo na tleh in poskrbi, da nam je prijetno toplo in udobno. Odeja lahko nudi veliko oporo in udobje tudi pri drugih asanah - od osnovnih (podpora sedečim položajem) do naprednih (ustrasana, sirsasana). Odeja se lahko zvije in omogoča sprostitev nog in podporo spodnjega dela hrbta ali pa se uporabi kot podlaga za kolena. Njena prednost je prilagajanje višine in oblike.
Pri stilih joge, kot so restorativna/terapevtska joga, jin joga, kundalini joga, joga za nosečnice, kjer se asane zadržuje dlje časa, se poleg gornjih uporabljajo še bolsterji.
Bolsterji so polnjene blazine pravokotne ali valjaste oblike, ki pomagajo, da se v asanah popolnoma sprostite, pomagajo zmehčati telo in omogočijo postopno in varno raztezanje. Na voljo so različnih dimenzij in teže, polnjeni z različnimi materiali – npr. bombaž, luščine pire, ajde,.. Primeri asan, kjer uporabljamo bolster: Savasana, Balasana, Viparita karani, Supta Baddha Konasana,…
Valj za jogo (kolo) je relativno nov pripomoček, ki ga je v prakso vključil jogist Dharma Mittra. Glavni namen valja je izboljšati prožnost hrbta in odpiranje prednjega dela telesa – razteza in z lahkoto odpira prsni koš, ramena, hrbet in boke. Prinese pa tudi več dinamike v prakso. Začetniki in napredni jogisti lahko z lahkoto vadijo zaklone. Nekaj primerov asan, kjer lahko uporabite valj: Hanumanasana, Pincha Mayurasana, Salamba Sarvangasana, Halasana.
Meditacijska blazina vas popolnoma podpre v meditativnih položajih, kot so sukhasana, virasana, padmasana. Blazine omogočajo stopalom in kolenom sproščen in udoben položaj, hkrati pa poravnajo hrbet in pripeljejo medenico naprej in ji nudijo oporo. Blazine so različnih oblik, dimenzij in polnjenj. Izbiramo lahko blazine v obliki polmeseca, pravokotne, zafu –okrogle, s pirinimi ali ajdovimi luščinami, kapok volna … Izberemo si takšno, ki nas najbolje podpre.
Blazinice za oči povečajo učinek sprostitve pri restorativnih asanah, kot so savasana ali pri meditaciji. Ponavadi so polnjene z lanenimi semeni in/ali z dodatkom zelišč(npr. sivka), lahko pa jim dodajate eterična olja za dodatne aromaterapevtske koristi; npr. sivka sprošča in pomirja živce, odpravlja nespečnost in zmanjšuje depresijo.
Za aerial jogo se uporablja hammock, viseči mreži podoben pripomoček, ki se pričvrsti na strop in s pomočjo le-tega izvajamo asane.
Joga pripomočki spodbudijo posameznika, da varno spozna asane in svoje zmožnosti, svoje potenciale in ter mu pomagajo pri procesu učenja, predvsem pa zagotavljajo, da se počuti prijetno. Če še niste preizkusili katerega od teh neverjetnih pripomočkov, je čas, da spoznate njihove pozitivne učinke.
View why prAna yoga mats are the best mets in the world!